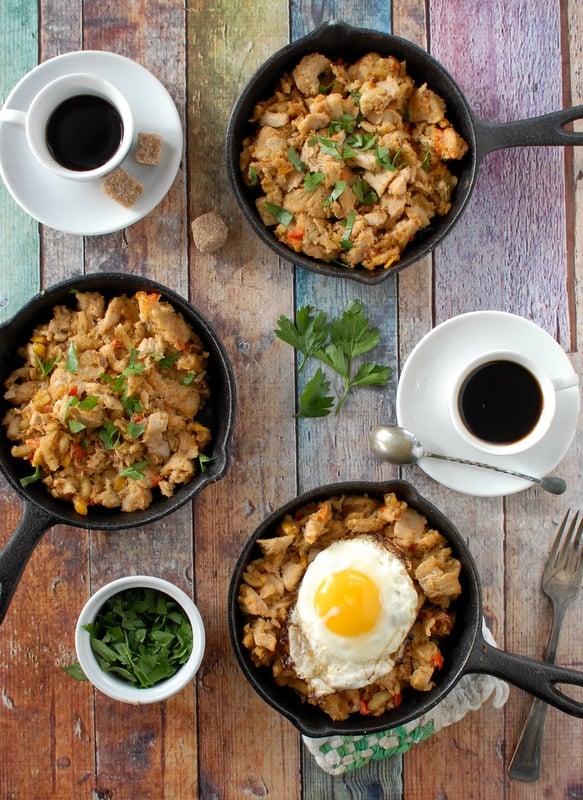 Turkey Holiday Hash
Ingredients
1 tablespoon unsalted butter
1/2 cup yellow onion, chopped
2 large garlic cloves, minced or pressed through a garlic press
1/2 cup red pepper, finely chopped
3 cups cold cooked turkey, chopped
1 cup cold dressing/stuffing
1 teaspoon kosher salt
1/2 teaspoon black pepper, ground
1/2 cup sliced almonds
2/3 cup gravy or heavy whipping cream
Garnish: chopped Italian parsley
Instructions
In a large, heavy skillet over medium-high heat, place sliced almonds. Stir constantly until the almonds begin to turn light golden brown; 2-3 minutes. Remove and set aside.
Melt butter in the same skillet over medium heat. Add onions, garlic, and red pepper to the skillet and sauté, stirring constantly until the onions become translucent.
Add the turkey, dressing, salt, and pepper; stir to mix well. Cook over medium heat, stirring occasionally until heated through, about 5 minutes.
Add the gravy/cream and almonds to the skillet. Cook until the liquid is absorbed, stirring frequently, scraping the bottom of the skillet to incorporate the browned butter into the mixture. Allow mixture to sit a few minutes in between, stirring to develop a light golden crust. Hash should still be moist when done; about 5-10 minutes.
Garnish with chopped Italian parsley and serve immediately.